2023 FIA American Congress hosted by the Automóvil Club Guatemala starts in World Heritage City of Antigua Guatemala

A Key Gathering for FIA Members in the Americas
Hosted by the Automóvil Club Guatemala with the support of Fédération Internationale de l'Automobile (FIA) Region III and IV and the North America and South America FIA sport regions, the 2023 FIA American Congress started today at the Casa Santo Domingo Hotel in the World Heritage city of Antigua Guatemala. 
As a testimony of the importance of this annual event for the FIA community, The FIA Leadership Team is highly represented at the event with FIA President Mohammed Ben Sulayem, FIA Deputy President for Sport Robert Reid, FIA Deputy President for Automobile Mobility and Tourism Tim Shearman, FIA Senate President Carmelo Sanz de Barros, FIA CEO Natalie Robyn, FIA Vice President for Sport – South America Fabiana Ecclestone, FIA Vice President for Sport – North America Daniel Coen, FIA Region III President Frank Fotia and FIA Region IV President Ricardo Morales Rubio all being in attendance. 
To officially launch the event, FIA President Mohammed Ben Sulayem was joined by Mayor of Antigua Guatemala Victor Hugo del Pozo who named him a Distinguished Visitor of Antigua Guatemala.

FIA President Mohammed Ben Sulayem said: "This Congress is a vital part of our mission to transform the FIA into a Member-driven organisation that empowers its regions and becomes a knowledge-led Federation. I am very happy to see Delegates from all over the Americas attending this Congress. This is a testament to the active role that our American Members play within the FIA. It is also a great honour to receive such an important distinction from the city of Antigua in recognition of our positive work in motor sport and mobility."
Mayor of Antigua Guatemala Victor Hugo del Pozo said: "Today I am pleased to give Mr. Mohammed Ben Sulayem, President of the FIA, this distinction for his invaluable contribution to sustainable mobility, road safety and motor sport development. I also welcome all participants of the FIA American Congress, which is a great opportunity to let us showcase our city's amazing culture and history. Antigua Guatemala is a World Heritage Site that will, without a doubt, make this event one to remember."
Also addressing the Delegates as the host of the event, Automóvil Club Guatemala (ACG) President Pedro Cofiño Ortega said: "The FIA American Congress 2023 is a great opportunity to keep learning to move forward on mobility and sport topics from a regional standpoint. The ACG is honoured to host this event that will promote innovation and allow for networking between all attendees."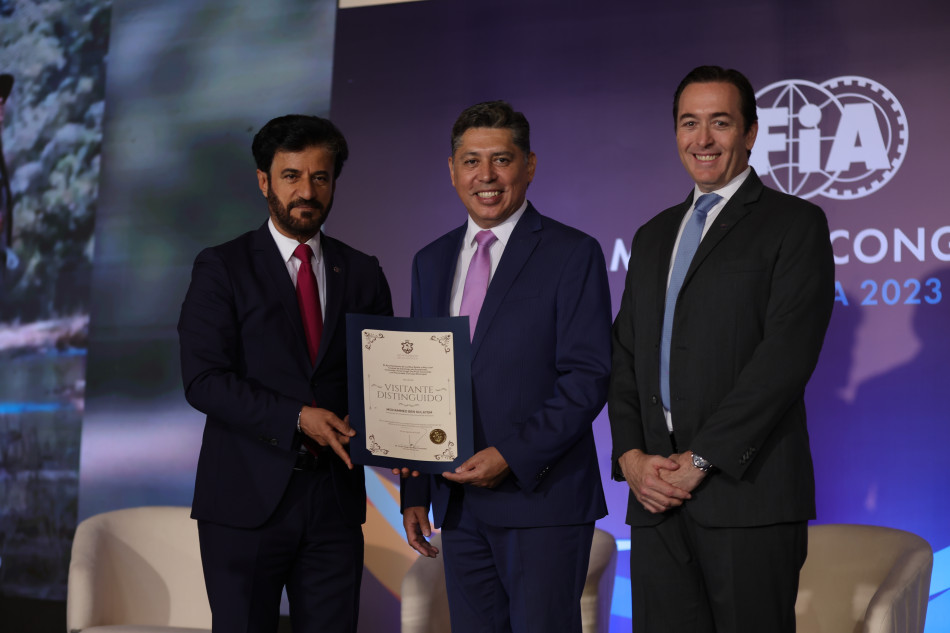 A Rich Programme to Advance Progress
The 2023 FIA American Congress will offer the perfect opportunity to bring together Delegates from all over America for a series of panel discussions and networking sessions that will promote innovation and best practice among FIA Clubs. 
Attendees will have the opportunity to learn from FIA experts and special guests about different topics relevant to both on Sport and Mobility such as communications, sustainability, and Equality, Diversity and Inclusion. Sport sessions will also look at opportunities in Esports and Sport Clubs Empowerment, while Mobility sessions will focus on business development and road safety.
A very special tribute to late José Abed, who was FIA Vice President of Honour and OMDAI President, will be paid with the first José Abed Award ceremony. 
Launched by FIA President Mohammed Ben Sulayem, this annual award will be given for the first time to a National Sporting Authority (ASN) or a National Automobile Club (ACN) in the region in recognition for its outstanding work in favour of motor sport growth and development.