One Road
Our Mission: 
Our mission is to help FIA Clubs tackle membership retention and acquisition challenges, by providing access to unique global loyalty offerings for their members.
We provide access to a dedicated platform as well as a number of value-oriented services to the FIA Clubs themselves. We share network effects and economies of scale with participating Clubs.
What is One Road: 
One Road Programme aims at creating a global experience rewards system, tailor made and open for Mobility Clubs, that will enable us to increase our business opportunities by offering high-volume benefits to our own Members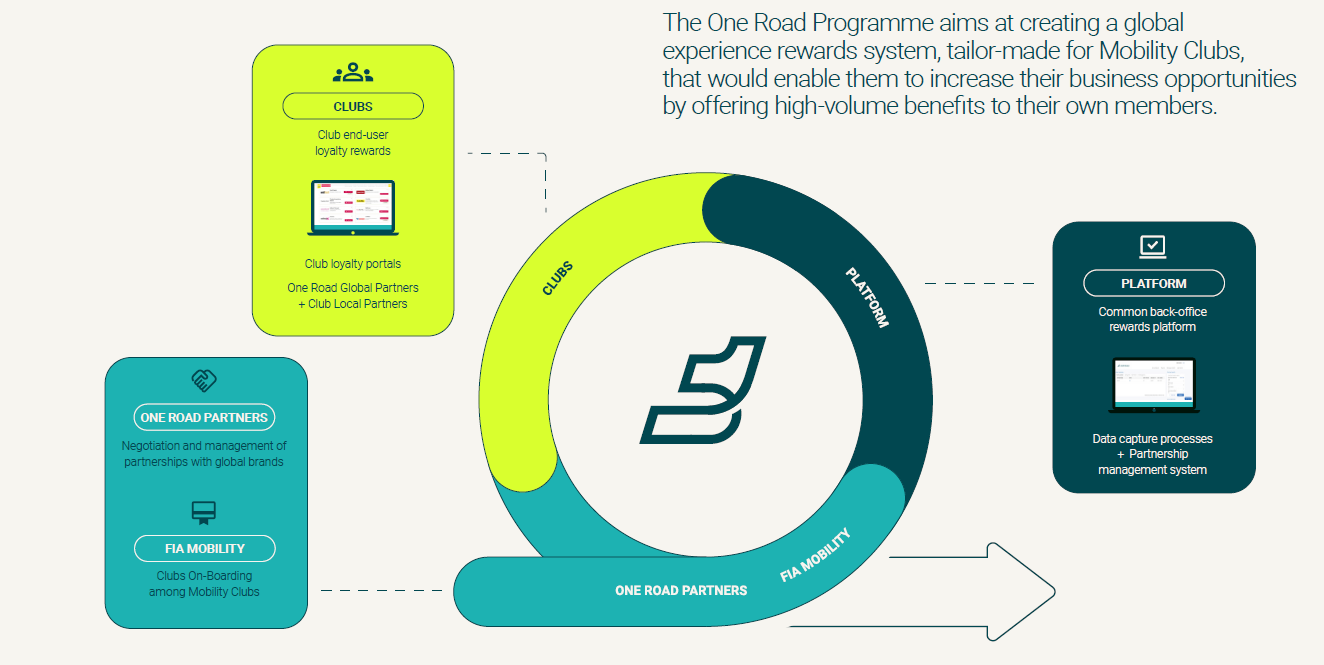 Guiding Principles & Value: 
#1 GLOBAL CLUB FOCUS
Club-orientation: We work for the Clubs and consult them in our business decisions through workshops and surveys. 
Service orientation: We aim at complementing existing services and developing new services for the Clubs specifically in relationship to their loyalty programmes. We do not work on integrating free member benefits, but rather on discounts, cashback or other reward benefits that members can buy from partners at special prices.
Reciprocity: We aim at facilitating reciprocal agreements between the Clubs.
Satisfaction: We survey the Clubs to understand their satisfaction with the program and devise mitigation strategies where need be.
Branding: We allow the Clubs to use the One Road brand at no cost to them, if the opt to use it for marketing purposes.
#2 PARTNERSHIP FOCUS
Quality assurance: We conduct mystery shopping and give feedback to our partners to improve conversion and utilization of offerings.
Reach: FIA focuses on global or regional partnerships. In One Road, Clubs can seek domestic partners for offerings in their own market alone. Reciprocity / 2 or more countries.
Customisation: Everything we do is proposed to the Clubs in an opt in / opt out format, to help Clubs tailor their choices to their own situation and strategies and customise their portfolio.
Marketing: Business Partners expect minimum marketing standards in terms of actual views of their offer.
#3 OPERATIONS AND STRATEGY FOCUS
Governance: Once out of the FIA Innovation Fund (FIF) period, One Road aims at becoming a separate programme of the FIA.
Scaling: After the original investment from the FIF, One Road aims at generating enough revenues from commissions to maintain and grow our services to the Clubs.
Innovation: We stay focused on innovation in the loyalty space by monitoring loyalty trends such as digitalisation, artificial intelligence, including these into the value proposition of One Road when we feel it is appropriate.
Sustainability: We aim at developing and implementing a sustainability approach that will differentiate One Road from other loyalty programmes.
Youth Strategy: We aim at developing offerings that will attract younger members.
Best Practices: We aim at sharing best practices across all the network and provide training and support to Clubs in need (marketing best practices in particular).