W2RC - Toyota's Al-Atiyah faces Bahrain Raid Xtreme, Audi Sport & bumper field in Morocco as he closes in on 2nd FIA title
2023 FIA World Rally-Raid Championship (W2RC), round 5 - Rallye du Maroc (12-18 October)
The Rallye du Maroc is the final round of the 2023 FIA World Rally-Raid Championship (W2RC) and a bumper entry of 102 cars and trucks will compete over a gruelling five-day desert route and around 1,470 competitive kilometres to determine the winners of the overall Drivers' Championship and the FIA T3 and T5 categories. 
Toyota Gazoo Racing's Nasser Saleh Al-Attiyah heads the massive field on what may well be his last event with the Japanese manufacturer. He needs just a handful of points to confirm a second successive Drivers' Championship.  
The Qatari is a six-time winner in Morocco and leads Toyota team-mate Yazeed Al-Rajhi by 51 points after four rounds, while his Andorra-based co-driver Mathieu Baumel has already confirmed the FIA W2RC Co-drivers' title and Toyota Gazoo Racing secured the Manufacturers' Championship at the last round in Argentina. 
On this occasion, competition for overall victory is fierce with Team Audi Sport registered for FIA W2RC points in Morocco and Bahrain Raid Xtreme returning to the series after missing the last round.  
While Al-Attiyah sets his sights on the title, Al-Rajhi faces a challenge from his Overdrive Racing team-mate Juan Cruz Yacopini and Frenchman Sébastien Loeb for the runner-up spot. The Saudi leads Yacopini by 29 points, with Loeb a further eight behind in the first of four Prodrive Hunters entered by Bahrain Raid Xtreme.  
Argentina's Orlando Terranova teams up with Bernardo Graue to drive the second Hunter and the Brazilian duo of Marcos and Cristian Baumgart are also running under the Bahrain Raid Xtreme banner but are not registered for the World Championship.  
Team Audi Sport has publicly stated that the 2024 Dakar Rally will be its last event with the revolutionary Audi RS Q E-Tron and has entered three of the machines in Morocco in the T1.U (Ultimate) category. New cars have been built for multiple Dakar winner Stéphane Peterhansel and Mattias Ekström and four-time Dakar winner Carlos Sainz drives a third electric machine.  
Frenchman Guerlain Chicherit is the defending champion in Morocco but the French motor sporting all-rounder has switched from a Hunter to an Overdrive Racing-run Toyota Hilux for the defence of his Morocco crown alongside co-driver Alex Winocq.  
Other registered T1+ and T1 drivers include Czech Martin Prokop in his Ford Raptor RS Cross-Country, now powered by a turbo engine, Denis Krotov (Overdrive Toyota), Frenchman Mathieu Serradori (Century CR6-T T1.2), the experienced Pole Krzysztof Holowczyc in an X-raid Mini JCW Rally Plus and Magdalane Zajac in a Toyota. The X-raid Mini JCW Team currently holds second place in the FIA W2RC Manufacturers' Championship. 
The M-Sport Ford World Rally Team has been developing a new Ford Ranger this year in conjunction with Neil Woolridge Motorsport. Former Dakar winner Joan 'Nani' Roma of Spain will give the machine another appearance in Morocco with Alex Haro reading the road book. The Ford is not registered for the W2RC but M-Sport Ford hope to see it in competitive action throughout 2024. The Ranger finished sixth and 11th on its race debut in the hands of Roma and Gareth Woolridge in July's Baja Spain Aragón.  
Three-way American Red Bull driver showdown for T3 title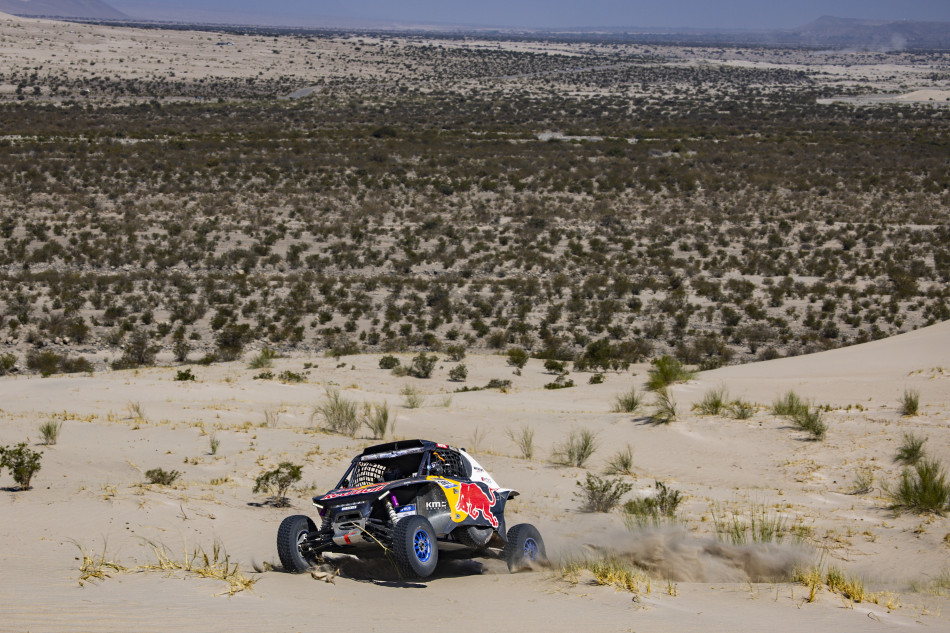 Thirty-seven lightweight prototype cross-country machines will compete in the T3 category and 10 are registered for the FIA W2RC.  
Morocco will see a three-way fight between the Red Bull-supported American trio of Mitch Guthrie, Austin Jones and Seth Quintero for the Drivers' Championship. Their respective co-drivers, Kellon Walch, Gustavo Gugelmin and Dennis Zenz, will be aiming for Co-drivers' series honours.  
Red Bull Off-Road Junior Team USA presented by BF Goodrich driver Guthrie (Taurus T3M) arrives in Agadir with a three-point cushion over Jones. Jones represents Red Bull Off-Road Junior Team USA and holds a six-point lead over his third-placed Can-Am team-mate Quintero.  
The Red Bull Can-Am Factory Team duo of Cristina Gutiérrez and outgoing champion Francisco 'Chaleco' Lopez are classified fourth and fifth in the Drivers' Championship.  
W2RC-registered rivals include the South Racing Can-Am Team duo of David Zille and Erik van Loon, French veteran Claude Fournier, Kees Koolen of the G Rally Team in his OT3 and Saudi Arabian female driver Dania Akeel. She has switched from a Can-Am to a Wevers Sport Taurus T3 Max for Morocco and the 2024 Dakar Rally.  
Amongst the non-registered drivers are the recently-crowned W2RC champion Rokas Baciuška (Can-Am), the Polish family trio of Eryk, Marek and Michal Goczal in three Energylandia Rally Team MCE-5 T3Ms and regular FIA Baja front-runners Tiago Reis and João Dias in a pair of Santag Racing Can-Ams.  
Another name to watch out for is that of Austrian Lukas Lauda, the son of the late three-time FIA Formula One World Champion Niki Lauda. He has joined forces with the South Racing Can-Am Team for the first time in a Maverick X3 alongside co-driver Stefan Henken.  
Japan's Umeda tops T4 field in Morocco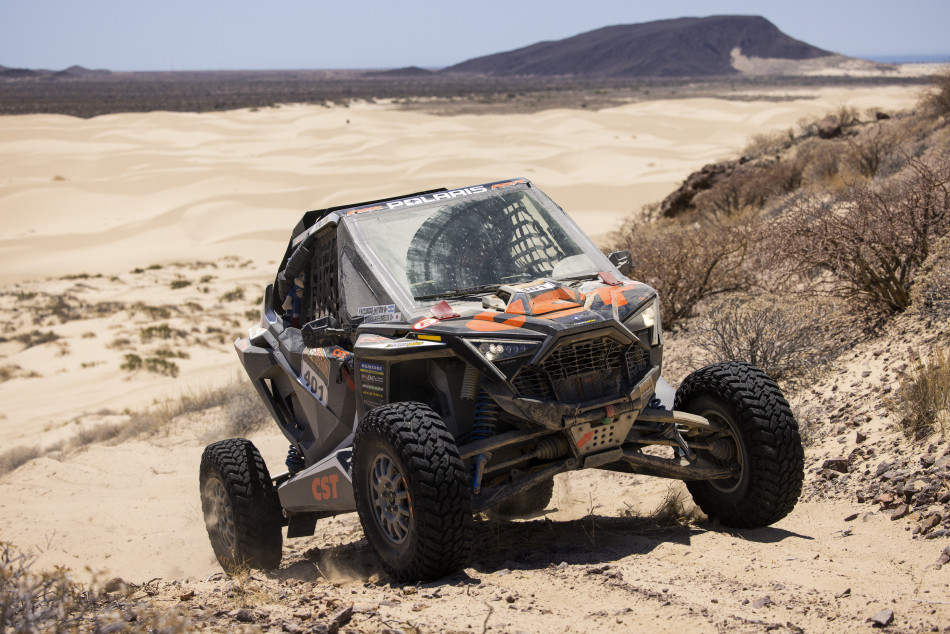 With Baciuška and his Spanish co-driver Oriol Vidal already confirmed as FIA T4 champions and heading to Morocco in the T3 category, Shinsuke Umeda heads the 19-strong FIA T4 section with Italian navigator Maurizio Dominella category in his Xtreme Plus Polaris RZR Pro R Sport. With his closest rivals competing in other categories, the Japanese is already confirmed as the runner-up in the class.  
Umeda's three registered rivals in North Africa are the FN Speed Team duo of Rebecca Busi and Sebastian Guayasamin in a pair of Can-Ams and last year's FIA European Cup for Cross-Country Bajas winner João Ferreira. The Portuguese was announced as a new member of the Can-Am Factory Racing team earlier this week and will race under the South Racing banner in Morocco.  
Non-registered drivers include Ferreira's team-mates Eduardo Pons and Extreme E front-runner Sara Price. 
Van Kasteren goes head-to-head with Macik in T5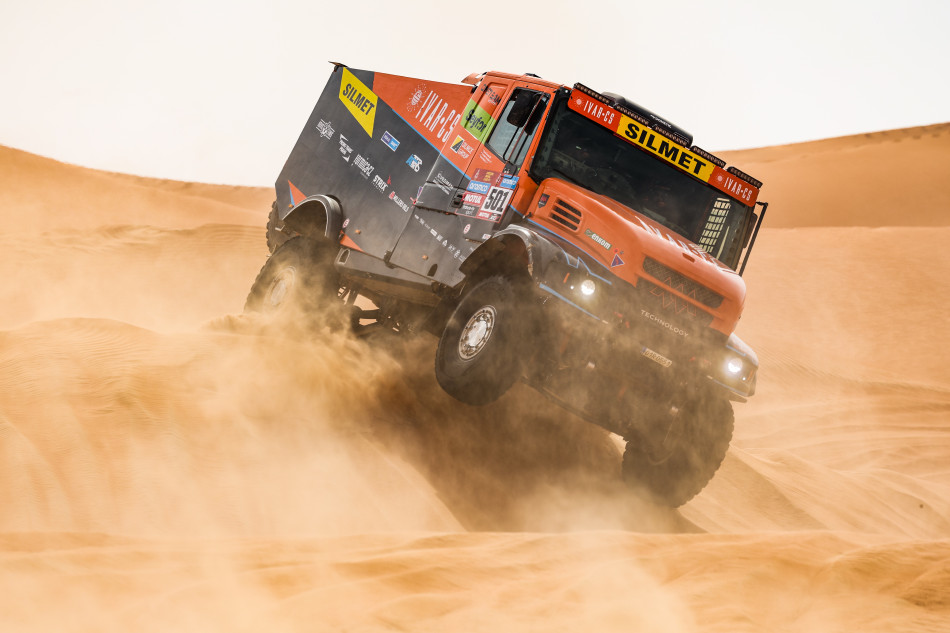 Of the 10 trucks entered in the FIA T5 category, three are registered for the W2RC and Dutchman Janus van Kasteren and his crew of Darek Rodewald and Marcel Snijders will go head-to-head with the Czech MM Technology trio of Martin Macik, Frantisek Tomasek and David Svanda for title honours. The two Iveco Powerstar crews are separated by just 11 points after the opening round – the Dakar Rally in January.  
Tomas Vratny is a distant third in the points' standings with Bartolomiej Boba and Jaromir Martinec in his Fesh Fesh Group-entered Ford Cargo.  
Dutch crews dominate the list of non-registered teams with Anja van Loon switching from a Can-Am to compete in an all-female Iveco crew alongside Marije van Ettekhoven and Floor Maten.  
The rally starts near the harbour town of Agadir with a Prologue stage of 19km on Friday, October 13th and then heads through the remote deserts of Morocco, via three nights in Zagora, for five desert stages before finishing in Merzouga on Wednesday, October 18th.  
2023 Rallye du Maroc – entry list (top 20):  
| | |
| --- | --- |
| 200. Nasser Saleh Al-Attiyah (QAT/Mathieu Baumel (FRA) | Toyota GR DKR Hilux          |
| 201. Yazeed Al-Rajhi (SAU)/Timo Gottschalk (DEU) | Toyota Hilux Overdrive       |
| 202. Juan Cruz Yacopini (ARG)/Daniel Oliveras (ESP) | Toyota Hilux Overdrive   |
| 203. Sébastien Loeb (FRA)/Fabian Lurquin (BEL) | Prodrive Hunter   |
| 205. Martin Prokop (CZE)/Viktor Chytka (CZE) | Ford Raptor RS Cross-Country  |
| 206. Mattias Ekström (SWE)/Emil Bergkvist (SWE) | Audi RS Q E-Tron (T1.U)  |
| 207. Guerlain Chicherit (FRA)/Alex Winocq (FRA) | Toyota Hilux Overdrive  |
| 208. Stéphane Peterhansel (FRA)/Edouard Boulanger (FRA) | Audi RS Q E-Tron (T1.U)  |
| 209. Carlos Sainz (ESP)/Lucas Cruz (ESP) | Audi RS Q E-Tron (T1.U)  |
| 210. Denis Krotov (KGZ)/Konstantin Zhiltsov (ISR) | Toyota Hilux Overdrive  |
| 211. Joan Roma (ESP)/Alex Haro (ESP) | Ford Ranger*  |
| 212. Krzysztof Holowczyc (POL)/Lukasz Kurzeja (POL) | X-Raid Mini JCW Rally Plus  |
| 214. Mathieu Serradori (FRA)/Loic Minaudier (FRA) | Century CR6-T (T1.2)  |
| 215. Orlando Terranova (ARG)/Bernardo Graue (ARG) | Prodrive Hunter  |
| 216. Guillaume de Mevius (BEL)/François Cazalet (FRA) | Toyota Hilux Overdrive*  |
| 217. Jean-Luc Ceccaldi (FRA)/Thomas Gaidella (FRA) | MD Optimus (T1.2)*  |
| 218. Magdalena Zajac (POL)/Jacek Czachor (POL) | Toyota Hilux (T1.1)  |
| 219. Pau Navarro (ESP)/Goncalo Reis (ESP) | Toyota Hilux (T1.1)*  |
| 222. Cristian Baumgart (BRA)/Alberto Andreotti (BRA) | Prodrive Hunter*  |
| 223. Marcos Baumgart (BRA)/Kleber Cincea (BRA) | Prodrive Hunter*  |
| *denotes not registered for W2RC  |   |
| T1+ unless stated  |   |
2023 W2RC Drivers' Championship – after round 4: 
| | |
| --- | --- |
| 1. Nasser Saleh Al-Attiyah (QAT) | 189pts          |
| 2. Yazeed Al-Rajhi (SAU)                 | 138pts          |
| 3. Juan Cruz Yacopini (ARG)             | 109pts          |
| 4. Sébastien Loeb (FRA)                 | 101pts          |
| 5. Sebastián Halpern (ARG)             | 89pts, etc.      |
Timetable of events  
| | |
| --- | --- |
| Thursday, October 12   |   |
| Administration checks                     | Agadir Stadium (08.00-18.00hrs)  |
| Scrutineering                         | Agadir Stadium (09.00-19.00hrs)  |
| Pre-event press conference                 | Agadir Stadium (18.00hrs)  |
|   |   |
| Friday, October 13  |   |
| Prologue: 19km                         | TBA  |
|   |   |
| Saturday, October 14  |   |
| Stage 1: Agadir-Zagora - 324km | TBA  |
|   |   |
| Sunday, October 15   |   |
| Stage 2: Zagora-Zagora - 288km | TBA  |
|   |   |
| Monday, October 16  |   |
| Stage 3: Zagora-Zagora - 336km | TBA  |
|   |   |
| Tuesday, October 17   |   |
| Stage 4: Zagora-Merzouga - 351km | TBA  |
|   |   |
| Wednesday, October 18  |   |
| Stage 5: Merzouga-Merzouga - 152km | TBA  |
| Post-event press conference                 | Merzouga bivouac (16.00hrs)  |
| Prize giving ceremony – Rally du Maroc             | Merzouga bivouac (20.00hrs)  |
| Prize giving ceremony – W2RC                 | Merzouga bivouac (22.00hrs |